George V. Coyne
< Back to author list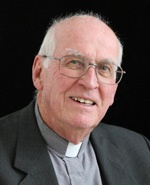 Fr. Coyne joined the Jesuit order in 1951.
He obtained his B.S. in mathematics and Licentiate in Philosophy from Fordham University 1958, and earned a PhD in Astronomy in 1962 from Georgetown University. Lastly, he earned a Licentiate in Sacred Theology (STL) from Woodstock College in 1965 and was ordained a Roman Catholic priest.
He conducted astronomical research at Harvard University and the Lunar Planetary Laboratory of the University of Arizona. He also taught at the University of Scranton.
He served as director of the University of Arizona's Catalina Observatory, Associate Director of the Steward Observatory and the Lunar Planetary Laboratory, and acting director of the astronomy department of University of Arizona.
He founded the Vatican Observatory Summer School and Vatican Observatory Research Group while serving as director from 1978 to 2006. He is now the President of the Vatican Observatory Foundation.
Fr. Coyne has been awarded honorary doctorate degrees from St. Peter's College, Jersey City; Loyola University Chicago; University of Padua, Italy; Jagiellonian University, Krakow, Poland; Marquette University, Milwaukee, Wisconsin; Boston College; Le Moyne College, Syracuse, New York; the College of the Holy Cross, Worcester, Massachusetts; Santa Clara University, Santa Clara, California.
Asteroid 14429 Coyne is named for him.
He is a member of the International Astronomical Union, the American Astronomical Society, the Astronomical Society of the Pacific, the American Physical Society, the Optical Society of America and the Pontifical Academy of Science.
He is currently teaching at Le Moyne College in Syracuse, NY.
No results
We couldn't find a match for these filters.
Please try another choose.