Gerald T. Brennan
< Back to author list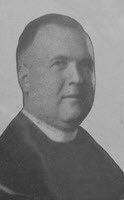 Rev. Fr. Gerald T. Brennan attended Rochester's St. Andrew's and St. Bernard's seminaries and was ordained in 1923. After serving as an assistant for nine years, he became pastor of Mount Carmel Church and later of St. Bridget's.
He had a wonderful rapport with children, teaching those in his parish schools, as well as hundreds of public'school children. During the weekly children's Mass at his parish, he preached directly to the children, modeling his homilies on Christ's example of telling a story and drawing a moral from it.
A friend insisted repeatedly that Fr. Brennan publish the stories from his homilies, and when he finally dared Fr. Brennan to do so, Fr. Brennan accepted the challenge and wrote his first book: Angel Food, a book of stories with practical lessons intended to help priests to teach the Faith to children.
His next book, Angel City, written specifically for children and at the request his friend and his publisher, was so popular that Fr. Brennan received letters from children all over the world, asking him to write more books. And more books followed: The Ghost of Kingdom Come, The Man Who Dared a King, The Good Rad Roy, and others.
Like Christ, who used words and images familiar to his hearers, Fr. Brennan spoke the language of children in his books. Full of simplicity and a sense of wonder, his words continue to bring the Faith alive for today's young readers.
No results
We couldn't find a match for these filters.
Please try another choose.