Gerald Zgabay
< Back to author list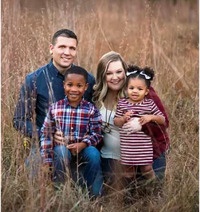 Writing for me is my expression, a way to process my journey of faith. It has been since February of 2005 when I raised my hand in a small Salvation Army Church in Waco, Texas while lost, tried and desperate. That day I looked to a God that I had no understanding of nor a grasp of what I had just agreed to. Walking out of that church I didn't realize that my life would be so drastically changed. That my life would become more challenging, depressing, frustrating yet full of purpose, love and meaning. That every belief would be challenged by walking intentional in pursuit of truth in my everyday life. Steering clear of the "corporation" of Christianity and looking to the reality of walking in step with the teachings of Jesus Christ. My stories are just that - a raw, authentic, transparent expression of my journey of experiencing God in the everyday miraculous.
My wife and I are not appointed leaders at a church. We believe leadership is a service, not a position. We lead in the areas of sexual integrity and mentoring those through the silence and secret battles of pornography addiction and unwanted sexual desires. We do this while working everyday jobs to support our passions, my wife is a professional photographer and I work in the banking industry. Our "calling" wasn't actually a calling it was just taking the next step and being willing to say yes. Willing to step into someone else's struggles and help them see the light, to have hope. To experience restoration.
My reason for writing is simply; to share a story, to share testimony, to provide hope and to relate to those struggling with faith, addiction and expectations. To help individuals who desire more to start a real, authentic, pursuit of God for themselves.
No results
We couldn't find a match for these filters.
Please try another choose.