Gilbert Frankau
< Back to author list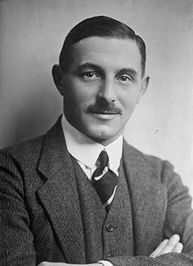 Gilbert Frankau was a popular British novelist. He was known also for verse (he was a war poet of World War I) including a number of verse novels, and short stories. He was born in London into a Jewish family, but was baptised as an Anglican at the age of 13. He was educated at Eton College, and went into the family cigar business.
He served in the British Army from the outbreak of war in 1914, first in 9th Battalion of the East Surrey Regiment), and then with the rank of Captain as a gunner in 107th Brigade of the Royal Field Artillery, experience that he later used in novels. He fought in major battles of the British Expeditionary Force in France, and wrote for the Wipers Times, before being invalided out and given a posting in Italy. The family business not having survived the war, he became a writer.
His novels, while having conventional romantic content, also contained material from his own conservative politics, and meditations on Jewish identity in the climate of the times. Some of them were filmed (see Christopher Strong; If I Marry Again was based on a short story). His political ambitions were frustrated by the fact that he was a divorcee (he married three times), not acceptable in the Conservative Party of the time. He notoriously wrote a 1933 article As a Jew I am not Against Hitler for the Daily Express, shortly after Adolf Hitler had come to power in Germany; he later retracted his position.
Few of his works have survived in reputation.
His mother Julia Frankau (1864-1916), sister of Owen Hall, wrote under the name Frank Danby (and is said to have collaborated with George Moore). His daughter Pamela Frankau from his first marriage was at least as successful as a writer. Another daughter also wrote, and Timothy D'Arch Smith, writer and bibliographer, is a grandson. His brother was comedian and musician Ronald Frankau.
No results
We couldn't find a match for these filters.
Please try another choose.