Glen Keane
< Back to author list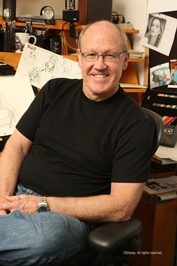 A 38 year veteran of Walt Disney Feature Animation, Glen Keane is most noted for creating and animating such legendary Disney characters as Ariel in "The Little Mermaid", Aladdin, Pocahontas, the Beast from "Beauty and the Beast", and Tarzan. Glen also served as Supervising Animator and Executive Producer on Disney's 2010 box office hit, "Tangled".
In 1972, Keane applied to study at the California Institute of the Arts as a Fine Art major. By accident, his portfolio was submitted and accepted to the School of Film Graphics (Animation). Although unintended, He decided to continue to follow this path. At the age of 19, he discovered animation was a combination of all the arts. He immediately fell in love with the medium that would stay with him for the rest of his career.
He joined Disney in 1974 where he trained under Walt Disney's legendary animators Ollie Johnson, Frank Thomas and Eric Larson. Glen began his journey animating scenes on "The Rescuers" before being promoted to directing animator on "The Fox and the Hound". Glen is the recipient of the 2008 Windsor McCay Award for Lifetime Achievement in Animation, the 2012 Tex Avery Award, and was a 2013 Disney Legend Award honoree for his contribution in Animation.
In the spring of 2012, Glen decided to leave Disney Studios in pursuit of further artistic exploration. In his departure letter he stated: "I am convinced that animation really is the ultimate art form of our time with endless new territories to explore. I can't resist it's siren call to step out and discover them." In 2013, he launched Glen Keane Productions to pursue his personal projects.
Glen was raised in Paradise Valley, Arizona, as the middle child of five, where his father Bil Keane created the syndicated comic "The Family Circus". He and his wife Linda have two adult children, Claire and Max, who also work in animation.