Glenn Meade
< Back to author list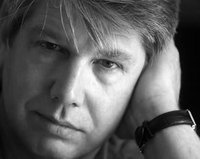 Glenn Meade was born into a working-class family in Dublin, Ireland. After finishing secondary school he had a tough time choosing between studying theology or engineering, but eventually engineering won out and he studied telecommunications. Soon after graduating, he lived and worked in New Hampshire. He worked as a specialist in the field of pilot training—having had a life-long interest in aviation—and has also been a journalist for the Irish Times and the Independent.
While living in New Hampshire, he persistently tried to interview the famously reclusive author of CATCHER IN THE RYE, J.D. Salinger, an effort that only served to vex Salinger, who set his dogs on Meade, who luckily managed to outrun Salinger's hounds and survive.
He began writing in earnest in the late eighties, when he wrote and directed his own plays, mostly for the Strand Theatre in Dublin, but Meade decided to turn his efforts to thriller writing in the mid-nineties.
His novels to date—SNOW WOLF, BRANDENBURG, THE SANDS OF SAKKARA, RESURRECTION DAY, WEB OF DECEIT, THE DEVIL'S DISCIPLE, THE SECOND MESSIAH—have been translated into twenty-six languages, and have enjoyed critical and commercial success.
His first novel, BRANDENBURG, about a neo-Nazi resurgence in present-day Europe, came about when he travelled to Germany to write an article for the Times on the billions in Nazi gold that went missing at the end of the Second World War. Quite by accident, he met an elderly former SS officer who told him a remarkable and highly personal tale about his part in keeping a disturbing war-time secret. That story became the inspiration for BRANDENBURG.
Several of his novels were also inspired by his journalistic work but inspiration only takes you so far and Meade claims that to produce anything of worth it always comes down to the same three constants: hard work, prayer, and putting your imagination through the wringer.
Critics have compared the standard of his work to that of Frederick Forsyth, John le Carre, and Tom Clancy, and his stories have tended to be a tantalising blend of fact and fiction. SNOW WOLF won the prestigious thriller of the year award by the Japanese Writer's Guild (second place went to Stephen King's THE GREEN MILE).
He has also worked on several Hollywood scripts but Meade confesses that employment in Tinsletown was not a pleasant experience and he has learned to stick to the golden rule for novelists whose work is bought by Hollywood—gratefully accept the pay check, walk away and just pray that they don't turn your treasured story into a musical.
Meade has earned a reputation for meticulously researched stories and has travelled extensively—to Russia, the Middle East, Europe—to research his novels. For RESURRECTION DAY, a highly realistic thriller about a dramatic attack on the US capital by an Al Qaeda terror group armed with a chemical weapon of mass destruction, and completed three weeks before the events of September 11th, he spent many months in Washington DC. He interviewed senior White House staff, former Secret Service agents, US Federal emergency planners, and senior FBI terrorist experts, some of whom were later involved in the hunt for Al Qaeda terrorist suspects on US soil. One former senior FBI source, John O'Neill, who helped Meade, was killed in the September 11th attacks, having resigned from the bureau only months prior to taking up a new post—as head of security at the Twin Towers.
RESURRECTION DAY was published internationally but Meade's then New York publisher considered it too raw a subject for the US, coming so soon after 9/11, and they parted company. However, the work garnered rave reviews and much media attention in Europe.
Having read the book, Newt Gingrich, then a member of the Hart-Rudd commission (set up post 9/11 by President George Bush with responsibility for determining future likely terrorist threats against the US) was so impressed that he contacted Meade and kindly offe