Gloria Repp
< Back to author list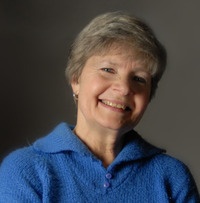 Bedtime? Story time! Gloria Repp's earliest memories center on the stories her father told at bedtime. "What kind of story would you like tonight?" he'd ask, taking her onto his lap.
She always had an answer, different every time: "About a princess. And a lion. And maybe a horse—a brave, kind horse."
After she learned to read, Gloria found stories on her own, but the ones she told herself seemed the most satisfying. Her mother died, her father remarried, she was sent away to school, and on many nights she treated herself to another imaginary adventure.
She became an omnivorous reader as the years passed, and finally she recognized what she'd always wanted to do: write down her stories for children to read.
She studied the craft of writing juvenile fiction and then began. Her three children seemed to like her stories, so she took the long road to publication and found that others liked them too. Since then, she has taught creative writing, worked as an editor, and written more books—for children, teens, and adults.
Many of Gloria's books reflect her love for wilderness, and she says that the oceans, mountains, and forests of her childhood in Hawaii and Canada provide an inspiration she has never outgrown.
Recently, she has been exploring the New Jersey Pine Barrens, an incomparable wilderness of woods and rivers, bogs and ruins. One memorable spring evening, she listened to its frogs and found them irresistible. Before long, the hours of tramping through abandoned cranberry bogs bore fruit, and she began to dream of stories about a tiny Pine Barrens Treefrog named Pibbin.
Pibbin's adventures have taken shape, young readers enjoy them, and each year she goes back to the Pine Barrens for more. The
Tales of Friendship Bog
continue.