Golden Keyes Parsons
< Back to author list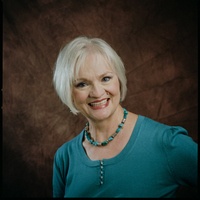 Golden Keyes Parsons is a popular retreat and conference speaker, author of historical novels and an ordained pastor.
Her book, "In The Shadow Of The Sun King," (Thomas Nelson Publishing), first in a four-book series based on her family genealogy, released Fall 2008, and was named a finalist in the ACFW's Book of the Year Debut Author category. The book chronicles the saga of the Clavell family in 17th century France, where, as French Huguenots, they suffer persecution at the hands of Louis XIV's Catholic government.
The second book, "A Prisoner Of Versailles," was released September 2009. It was a finalist in RWA's Daphne contest as well as a Golden Scroll finalist.
Book Three, "Where Hearts Are Free" released in November of 2010 and was selected as a Women of Faith Library Selection.
His Steadfast Love, a Civil War novel set in Texas, which released in 2011 was named a finalist in the Readers' Choice Awards.
Parsons' biblical novella series released as ebooks through 2012 - 2013 and released as a compilation, Hidden Faces: Nameless Women in Scripture in April of 2014.
No results
We couldn't find a match for these filters.
Please try another choose.