Gregory W. Dawes
< Back to author list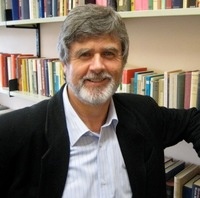 Greg gained his first graduate degree at the Pontifical Biblical Institute in Rome before returning to New Zealand to complete a PhD in Biblical Studies at the University of Otago. He has more recently completed a second PhD, in the Philosophy of Religion, and now teaches in both Religion and Philosophy. Having two young daughters, Anna and Kathryn, he is continually reminded of the truth of Quine's remark that the major questions of philosophy are asked by age five.
Greg is currently working on a new book entitled After
Copernicus
: Religion, Science, and Magic in Early Modern Europe.
I have a particular interest in the methodological naturalism or (more precisely) the methodological atheism of the modern sciences. In both history and the natural and social sciences, no proposed explanation that appealed to a divine action would be taken seriously. The creationist and intelligent design movements of today question this stance, arguing that it arises from nothing more than atheist prejudice.
My recent PhD examined and rejected this claim, arguing that the methodological naturalism of the sciences is well founded. Even if appeal to a divine agent could be shown to have explanatory force, there would still be reason to prefer a natural (as opposed to supernatural) explanation.
My earlier work focused on the assumptions that underlie the historical Jesus debate. The interesting philosophical question here is: What happens when religious and theological explanatory claims come into conflict? More precisely, what happens to religious belief when the phenomenon of religion itself can be explained without reference to a god?
Books By Gregory W. Dawes
Displaying all 2 products