Harsha Walia
< Back to author list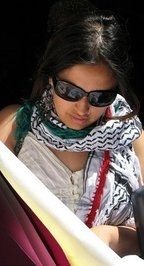 Harsha Walia is an author and activist who is formally trained in the law. She immigrated from India and currently resides in Vancouver, on the lands of the Indigenous Coast Salish people, and works as an advocate in the poorest postal code in Canada.
Harsha has been named one of the most influential South Asians in BC by the Vancouver Sun and one of the ten most popular left-wing journalists by the Georgia Straight in 2010. Award-winning author Naomi Klein has called Harsha "one of Canada's most brilliant and effective political organizers." She is the winner of the Canadian Center for Policy Alternatives "Power of Youth" award.
Harsha's writings have appeared in over fifty academic journals, anthologies, and magazines, including Briarpatch, Canadian Dimension, Dominion, Feministing, Fuze, Left Turn, Mondoweiss, People of Color Organize, Rabble, Racilicious, Sanhati, Z Magazine, and others. She has contributed essays to academic journals including Race and Class, as well as chapters in the anthologies Power of Youth: Youth and community-led activism in Canada; Racism and Borders: Representation, Repression, Resistance; Beyond Walls and Cages; Stay Solid; Broken Trouble: A Toolbox for Revolution; Organize! Building from the Local for Global Justice, and the Winter We Danced.
As an activist, Harsha is a cofounder of the migrant justice group No One Is Illegal and the progressive South Asian network Radical Desis. She is also an organizer in the Annual Women's Memorial March Committee, Defenders of the Land Network, Housing Justice Coalition, and sits on the boards of the South Asian Network for Secularism and Democracy as well as Shit Harper Did. She is a youth mentor for Check Your Head and an editorial collective member at Feminist Wire. Harsha has made a number of presentations to the United Nations on social and economic justice issues and is a commentator and speaker at conferences, campuses, and media outlets across North America.
No results
We couldn't find a match for these filters.
Please try another choose.