Hedda Martina Šola
< Back to author list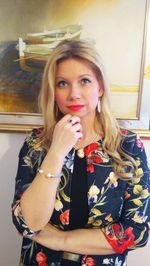 Dr. Hedda Martina Šola has been listed in the International Encyclopaedia written by R. Hübner, entitled "Who is Who in Croatia"(2015) among the leading marketing experts in Croatia.
She drew on her rich 20 year professional experience in marketing at strategic positions within different companies as a Board Member for Marketing. Until recently, she held the position of Vice-Dean for business cooperation and international relations at the University College of Economics, Entrepreneurship and Management, and today she is a university professor teaching at several private faculties in the Republic of Croatia and advisor to leading companies in the market.
She is also a regular guest at international conferences and congresses where she gladly gives lectures in two foreign languages. To this day, she has advised more than 100 different companies on how to develop their brands, strengthen their market position in terms of strategy, and to reposition themselves in the market.
She has also published more than 30 scientific and professional papers on the topic of marketing and neuromarketing, peer-reviewed at both national and international level. She is the author of the first book on neuromarketing published in Croatia under the title Marketinška oružarnica.
She has won numerous awards and recognitions, and her passion for marketing and science has led her to the doctorate in Economic Science with specialisation in Neuromarketing.
She is a registered marketing court expert at the County Court in Zagreb and a much quoted interlocutor in the media. For more information about the author, please visit the following web site:
www.heddamartinasola.com
.
No results
We couldn't find a match for these filters.
Please try another choose.