Heinrich Graetz
< Back to author list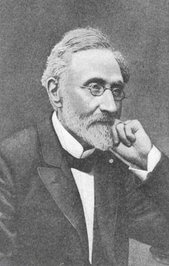 Heinrich Graetz (31 October 1817 – 7 September 1891) was amongst the first historians to write a comprehensive history of the Jewish people from a Jewish perspective.
Born Tzvi Hirsh Graetz to a butcher family in Xions (now Książ Wielkopolski), Grand Duchy of Posen, in Prussia (now in Poland), he attended Breslau University, but since Jews at that time were barred from receiving Ph.D.s there, he obtained his doctorate from the University of Jena. After 1845 he was principal of the Jewish Orthodox school of the Breslau community, and later taught history at the Jewish Theological Seminary in Breslau (now Wrocław, Poland). His magnum opus History of the Jews was quickly translated into other languages and ignited worldwide interest in Jewish history. In 1869 the University of Breslau (Wrocław) granted him the title of Honorary Professor. In 1888 he was appointed an Honorary Member of the Spanish Royal Academy of Sciences.
No results
We couldn't find a match for these filters.
Please try another choose.