Helena Sorensen
< Back to author list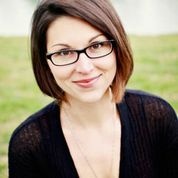 Helena Sorensen grew up outside Tampa, Florida in a little backwater called Fort Lonesome. She is not making this up. As a child, she went exploring in the orange groves, searching for empty shotgun shells and fragments of broken glass. Since then, she has performed in show choirs and chamber choirs, received a degree in Music Education, written songs and poems, and traveled to Italy and Ireland. She never saw any of this coming.
She also had no idea of becoming either a mother or a writer, yet here she is, living in Nashville with a husband and two kids and three published books to her name. She ponders the humor of God and the strange adventure of living while she drinks kombucha on the porch, or plans new homeschool units, or reads everything from Ursula LeGuin to Dave Barry to Betty MacDonald.
She writes for
www.rabbitroom.com
and
www.storywarren.com
. You can find her books and an occasional poem or some such at
www.helenasorensen.com
.
Books By Helena Sorensen
Displaying all 6 products