Howard Bloom
< Back to author list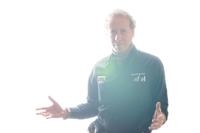 "I know a lot of people. A lot. And I ask a lot of prying questions. But I've never run into a more intriguing biography than Howard Bloom's in all my born days. " Paul Solman, Business and Economics Correspondent, PBS NewsHour
Howard Bloom has been called "next in a lineage of seminal thinkers that includes Newton, Darwin, Einstein,[and] Freud," by Britain's Channel4 TV, "the next Stephen Hawking" by Gear Magazine, and "The Buckminster Fuller and Arthur C. Clarke of the new millennium" by Buckminster Fuller's archivist. Bloom is the author of The Lucifer Principle: A Scientific Expedition Into the Forces of History ("mesmerizing"—The Washington Post), Global Brain: The Evolution of Mass Mind from the Big Bang to the 21st Century ("reassuring and sobering"—The New Yorker), The Genius of the Beast: A Radical Re-Vision of Capitalism ("Impressive, stimulating, and tremendously enjoyable." James Fallows, National Correspondent, The Atlantic), and The God Problem: How A Godless Cosmos Creates ("Bloom's argument will rock your world." Barbara Ehrenreich). Bloom has been published in arxiv.org, the leading pre-print site in advanced theoretical physics and math. He was invited to tell an international conference of quantum physicists in Moscow in 2005 why everything they know about quantum physics is wrong. And his book Global Brain was the subject of an Office of the Secretary of Defense symposium in 2010, with participants from the State Department, the Energy Department, DARPA, IBM, and MIT. Bloom has founded three international scientific groups: the Group Selection Squad (1995), which fought to gain acceptance for the concept of group selection in evolutionary biology; The International Paleopsychology Project (1997), which worked to create a new multi-disciplinary synthesis between cosmology, paleontology, evolutionary biology, and history; and The Space Development Steering Committee (2007), an organization that includes astronauts Buzz Aldrin, Edgar Mitchell and members from NASA, the National Science Foundation, and the Department of Defense.
Bloom explains that his focus is "mass behavior, from the mass behavior of quarks to the mass behavior of human beings." In 1968 Bloom turned down four fellowships in psychology and neurobiology and set off on a science project in a field he knew nothing about: popular culture. He was determined to tunnel into the forces of history by entering "the belly of the beast where new myths, new mass passions, and new mass movements are made." Bloom used simple correlational techniques plus what he calls "tuned empathy" and "saturated intuition" to help build or sustain the careers of figures like Prince, Michael Jackson, Bob Marley, Bette Midler, Billy Joel, Paul Simon, Billy Idol, Peter Gabriel, David Byrne, John Mellencamp, Queen, Kiss, Aerosmith, AC/DC, Grandmaster Flash and The Furious Five, Run DMC, and roughly 100 others. In the process, he generated $28 billion in revenues (more than the gross domestic product of Oman or Luxembourg) for companies like Sony, Disney, Pepsi Cola, Coca Cola, and Warner Brothers. Bloom also helped launch Farm Aid and Amnesty International's American presence. He worked with the United Negro College Fund,the National Black United Fund, and the NAACP, and he put together the first public service radio campaign for solar power (1981). Today, his focus on group behavior extends to geopolitics. He has debated one-one-one with senior officials from Egypt's Moslem Brotherhood and Gaza's Hamas on Iran's Arab-language international Alalam TV News Network. He has dissected headline issues on Saudi Arabia's KSA1-TV and on Iran's global English language Press-TV. And he has appeared fifty two times for up to five hours on 500 radio stations in North America.
Bloom is a former visiting scholar in the Graduate School of Psychology at NYU and a former core faculty member at the Graduate Institute in Meriden, Connecticut. He has written for Th
No results
We couldn't find a match for these filters.
Please try another choose.