Howard Pyle
< Back to author list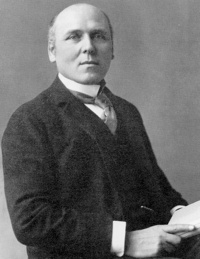 Howard Pyle was an American illustrator and author, primarily of books for young people.
During 1894 he began teaching illustration at the Drexel Institute of Art, Science and Industry (now Drexel University), and after 1900 he founded his own school of art and illustration named the Howard Pyle School of Illustration Art. The term Brandywine School was later applied to the illustration artists and Wyeth family artists of the Brandywine region by Pitz. Some of his more famous students were N. C. Wyeth, Frank Schoonover, Elenore Abbott, Ethel Franklin Betts, Anna Whelan Betts, Harvey Dunn, Clyde O. DeLand, Philip R. Goodwin, Violet Oakley, Ellen Bernard Thompson Pyle, Olive Rush, Allen Tupper True, and Jessie Willcox Smith.
His 1883 classic publication
The Merry Adventures of Robin Hood
remains in print, and his other books, frequently with medieval European settings, include a four-volume set on King Arthur. He is also well known for his illustrations of pirates, and is credited with creating the now stereotypical modern image of pirate dress. He published an original novel,
Otto of the Silver Hand
, in 1888. He also illustrated historical and adventure stories for periodicals such as
Harper's Weekly
and
St. Nicholas Magazine
. His novel
Men of Iron
was made into a movie in 1954,
The Black Shield of Falworth
.
Pyle travelled to Florence, Italy to study mural painting during 1910, and died there in 1911 from a kidney infection (Bright's Disease).
His sister
Katharine Pyle
was also a writer and illustrator. Their mother was the children's author and translator
M.C. Pyle
.
Books By Howard Pyle
Displaying all 3 products