Hugh Miller
< Back to author list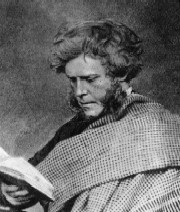 Librarian Note: There is more than one author in the Goodreads database with this name.
Hugh Miller was a self-taught Scottish geologist and writer and folklorist.
Among his geological works are
The Old Red Sandstone
(1841),
The Testimony of the Rocks
(1856), and
Sketch-book of Popular Geology
. Of these books, perhaps
The Old Red Sandstone
was the best-known. The Old Red Sandstone is still a term used to collectively describe sedimentary rocks deposited as a result of the Caledonian orogeny in the late Silurian, Devonian and earliest part of the Carboniferous period.
Miller held that the Earth was of great age, and that it had been inhabited by many species which had come into being and gone extinct, and that these species were homologous.
For most of 1856, Miller suffered severe headaches and mental distress, and the most probable diagnosis is of psychotic depression. Victorian medicine did not help. He feared that he might harm his wife or children because of persecutory delusions.
Miller committed suicide, shooting himself in the chest with a revolver in his house on Tower Street, Portobello, on the night he had finished checking printers' proofs for his book on Scottish fossil plants and vertebrates, The
Testimony of the Rocks
. Before his death, he wrote a poem called
Strange but True
.
A shocked Western world mourned him, and his funeral procession was among the largest in the memory of Edinburgh residents.
He is buried in the Grange Cemetery in Edinburgh.
Miller's death was very tragic, and his life brief, but he left a heritage of new discoveries of several Silurian sea scorpions (the eurypterid genus
Hughmilleria
was named in his honour), and many Devonian fishes, including several placoderms (the arthrodire Millerosteus also honoured him), described in his popular books. Though he had no academic credentials, he is today considered one of Scotland's premier palaeontologists.
There is a bust of Hugh Miller in the Hall of Heroes at the Wallace Monument in Stirling. His home in Cromarty is open as a geological museum, with specimens collected in the immediate area; a week-end event at the site in 2008 was part of celebrations marking the bicentenary of the Geological Society of London.
The Hugh Miller Trail starts at a small car park on a minor road just past Eathie Mains, about 3 miles (4.8 km) south of Cromarty, and leads about 1 mile (1.6 km) down a steep slope through woodland to the foreshore at Eathie Haven on the Moray Firth, where Miller began collecting fossils. It was here that he found his first fossil ammonite, in Jurassic rocks. The haven was originally a salmon fishing station, and a former fishermen's bothy, open to the public, has a display board about the geology of the area and Miller's fossil discoveries.
The BP-operated Miller oilfield in the North Sea was named after Hugh Miller.