Hugh Nibley
< Back to author list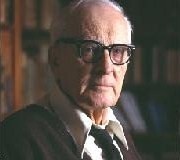 Hugh Winder Nibley was one of Mormonism's most celebrated scholars. Nibley is notable for his extensive research and publication on ancient languages and culture, his vigorous defense of doctrines of The Church of Jesus Christ of Latter-day Saints and for frankly discussing what he saw as the shortcomings of the LDS people and culture.
A prolific author and professor of ancient scripture at Brigham Young University, he was fluent in over ten languages, including Classical Latin, Greek, Hebrew, Egyptian, Coptic, Arabic, German, French, English, and Spanish languages. He also studied Dutch and Russian during World War II.
In addition to his efforts as a scholar, Nibley was well known for writings and lectures on LDS scripture and doctrinal topics, many of which were published in LDS Church magazines. His book "An Approach to the Book of Mormon" was used as a lesson manual for the LDS Church in 1957.