Ian Rankin
< Back to author list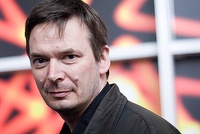 AKA
Jack Harvey
.
Born in the Kingdom of Fife in 1960, Ian Rankin graduated from the University of Edinburgh in 1982 and then spent three years writing novels when he was supposed to be working towards a PhD in Scottish Literature. His first Rebus novel was published in 1987; the Rebus books are now translated into 22 languages and are bestsellers on several continents.
Ian Rankin has been elected a Hawthornden Fellow. He is also a past winner of the Chandler-Fulbright Award, and he received two Dagger Awards for the year's best short story and the Gold Dagger for Fiction. Ian Rankin is also the recipient of honorary degrees from the universities of Abertay, St Andrews, and Edinburgh.
A contributor to BBC2's
Newsnight Review
, he also presented his own TV series,
Ian Rankin's Evil Thoughts
, on Channel 4 in 2002. He recently received the OBE for services to literature, and opted to receive the prize in his home city of Edinburgh, where he lives with his partner and two sons.
http://us.macmillan.com/author/ianrankin
Books By Ian Rankin
Displaying all 3 products