I.C. Robledo
< Back to author list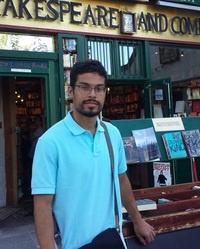 "Master your mind – Pursue greatness in all things mind, brain, and otherwise."
The best investment we can make is to put our time and effort into building up the mind. This is the #1 tool we will use to solve problems, achieve our goals, and overcome obstacles. The mind is powerful, but its abilities are often underestimated and misunderstood. When we gain a deeper understanding of the mind and brain, we will be able to make greater progress in our personal growth, life goals, and career aspirations.
I. C. Robledo is an internationally bestselling author who received his B.A. from Purdue University in psychology, and his M.S. from the University of Oklahoma in industrial-organizational psychology. His books are meant to help readers build their intellectual, creative, and mindful abilities. Robledo writes based on both personal experience and scientific research. His key goals include building a peak performing mind for himself and helping his readers to do the same. Academic publications he has contributed to include Creativity Research Journal, Journal of Organizational Behavior, and "The Handbook of Organizational Creativity".
When not working, I. C. Robledo enjoys reading in many topics, traveling the world, and playing chess and other games of strategy.
Contact: ic.robledo@mentalmax.net
Facebook Group:
http://mentalmax.net/FB
"Domine su mente – Persiga la grandeza en todo lo que se propone, mentalmente y de otras maneras".
La mejor inversión que podemos hacer es poner nuestro tiempo y esfuerzo en desarrollar la mente. Ésta es la herramienta #1 que utilizaremos para resolver problemas, alcanzar nuestras metas, y superar obstáculos. La mente es poderosa, pero con frecuencia sus habilidades son subestimadas o malinterpretadas. Cuando logramos una comprensión más profunda de la mente y del cerebro, seremos capaces de alcanzar un mayor progreso en nuestro crecimiento personal, en nuestras metas de vida, y aspiraciones profesionales.
I. C. Robledo es un autor de éxito internacional que recibió su Licenciatura en psicología de la Universidad de Purdue, y su Maestría en psicología industrial-organizacional de la Universidad de Oklahoma. Sus libros están enfocados en ayudar a los lectores a desarrollar sus capacidades intelectuales, creativas, y mentales. Robledo escribe basado tanto en su experiencia personal como en la investigación científica. Sus metas fundamentales incluyen desarrollar una mente de rendimiento óptimo para sí mismo, y ayudar a sus lectores a lograr lo mismo. Publicaciones académicas a las que ha contribuido incluyen el Creativity Research Journal, el Journal of Organizational Behavior, y "The Handbook of Organizational Creativity".
Cuando no está trabajando en sus proyectos literarios a I. C. Robledo le gusta leer sobre una gran variedad de temas, viajar por el mundo, y jugar ajedrez y otros juegos de estrategia.
Correo electrónico: ic.robledo@mentalmax.net
Grupo de Facebook:
http://mentalmax.net/FB
No results
We couldn't find a match for these filters.
Please try another choose.