Isabel Atherton
< Back to author list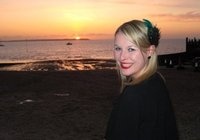 Isabel Atherton is an author, a literary agent, and director of Creative Authors Ltd. 'Zombie Cat: The Tale of a Decomposing Kitty' (with illustrator Bethany Straker) is a dark and humorous adult picture book. It is published October 2012 by Skyhorse Publishing. You can see more about the book here:
http://www.zombiecat2012.co.uk
.
Isabel also writes children's picture books and these include: 'The Bad Easter Bunny' with illustrator Stephanie Rohr (pub. Feb 2013) and 'Smelly Ghost' with illustrator Bethany Straker (pub. Fall 2013). These are both published by Sky Pony.
Isabel splits her time between London and Whitstable - a seaside town in Kent, UK.
This biography was provided by the author or their representative.
Books By Isabel Atherton
Displaying all 3 products