James Crumley
< Back to author list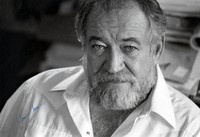 James Arthur Crumley was the author of violent hardboiled crime novels and several volumes of short stories and essays, as well as published and unpublished screenplays. He has been described as "one of modern crime writing's best practitioners", who was "a patron saint of the post-Vietnam private eye novel"and a cross between Raymond Chandler and Hunter S. Thompson.His book
The Last Good Kiss
has been described as "the most influential crime novel of the last 50 years."
Crumley, who was born in Three Rivers, Texas, grew up in south Texas, where his father was an oil-field supervisor and his mother was a waitress.
Crumley was a grade-A student and a football player, an offensive lineman, in high school. He attended the Georgia Institute of Technology on a Navy ROTC scholarship, but left to serve in the U.S. Army from 1958 to 1961 in the Philippines. He then attended the Texas College of Arts and Industries on a football scholarship, where he received his B.A. degree with a major in history in 1964. He earned a Master of Fine Arts degree in creative writing at the University of Iowa in 1966. His master's thesis was later published as the Vietnam War novel
One to Count Cadence
in 1969.
Crumley had not read any detective fiction until prompted to by Montana poet Richard Hugo, who recommended the work of Raymond Chandler for the quality of his sentences. Crumley finally picked up a copy of one of Chandler's books in Guadalajara, Mexico. Impressed by Chandler's writing, and that of Ross Macdonald, Crumley began writing his first detective novel,
The Wrong Case
, which was published in 1975.
Crumley served on the English faculty of the University of Montana at Missoula, and as a visiting professor at a number of other colleges, including the University of Arkansas, Colorado State University, the University of Texas at El Paso, Reed College in Portland, Oregon, and Carnegie-Mellon University in Pittsburgh.
From the mid-80s on he lived in Missoula, Montana, where he found inspiration for his novels at Charlie B's bar. A regular there, he had many longstanding friends who have been portrayed as characters in his books.
Crumley died at St. Patrick Hospital in Missoula, Montana on September 17, 2008 of complications from kidney and pulmonary diseases after many years of health problems. He was survived by his wife of 16 years, Martha Elizabeth, a poet and artist who was his fifth wife. He had five children – three from his second marriage and two from his fourth – eight grandchildren and two great-grandchildren.
No results
We couldn't find a match for these filters.
Please try another choose.