Jaroslav Pelikan
< Back to author list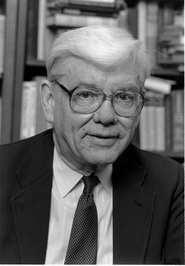 Jaroslav Jan Pelikan was born in Akron, Ohio, to a Slovak father and mother, Jaroslav Jan Pelikan Sr. and Anna Buzekova Pelikan. His father was pastor of Trinity Slovak Lutheran Church in Chicago, Illinois, and his paternal grandfather a bishop of the Synod of Evangelical Lutheran Churches then known as the Slovak Lutheran Church in America.
According to family members, Pelikan's mother taught him how to use a typewriter when he was three years old, as he could not yet hold a pen properly but wanted to write. A polyglot, Pelikan's facility with languages may be traced to his multilingual childhood and early training. That linguistic facility was to serve him in the career he ultimately chose (after contemplating becoming a concert pianist)--as a historian of Christian doctrine. He did not confine his studies to Roman Catholic and Protestant theological history, but also embraced that of the Christian East.
In 1946 when he was 22, he earned both a seminary degree from Concordia Seminary in Saint Louis, Missouri and a Ph.D. at the University of Chicago.
Pelikan wrote more than 30 books, including the five-volume The Christian Tradition: A History of the Development of Doctrine (1971–1989). Some of his later works attained crossover appeal, reaching beyond the scholarly sphere into the general reading public (notably, Mary Through the Centuries, Jesus Through the Centuries and Whose Bible Is It?).
His 1984 book The Vindication of Tradition gave rise to an often quoted one liner. In an interview in U.S. News & World Report (June 26, 1989), he said: "Tradition is the living faith of the dead; traditionalism is the dead faith of the living. Tradition lives in conversation with the past, while remembering where we are and when we are and that it is we who have to decide.
"Traditionalism supposes that nothing should ever be done for the first time, so all that is needed to solve any problem is to arrive at the supposedly unanimous testimony of this homogenized tradition."