Jeffrey E. Stern
< Back to author list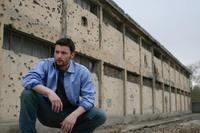 Jeffrey E. Stern is the author of THE LAST THOUSAND (
www.jeffreyestern.com
), new from St. Martin's Press. Known for a compelling narrative approach to complex social and cultural issues, his investigative work has taken him from the Oklahoma prison system to war-ravaged Afghanistan – all the while covering subjects with nuance and subtlety. Jeffrey earned his B.A. in Public Policy from Duke University and an M.A. in International Policy Studies from Stanford University, where he was named a Graduate Fellow at the Stanford Center for International Conflict and Negotiation. He has written for Esquire Magazine, is a regular contributor for Vanity Fair and recently wrote a cover story for the Atlantic Monthly.
Jeffrey also is the author of THE 15:17 TO PARIS: THE TRUE STORY OF A TERRORIST, A TRAIN, and THREE AMERICAN HEROES, forthcoming from PublicAffairs.
A "...beautiful, meticulously reported debut. Mr. Stern has a gift for exposition, explaining the confusing geopolitics of the region with a blessed — and welcome — lucidity."
--The New York Times
"An extremely well-written and sensitive history of a small group of people, the author included, trying to affect discrete and measurable educational progress amid incredible obstacles."
--Dave Eggers, New York Times bestselling author of WHAT IS THE WHAT and ZEITOUN and co-founder, the Valentino Achak Deng Foundation
"A celebtration of the power of education in Afghanistan. This is an important book for anyone trying to understand the immense challenges Afghans are facing in Afghanistan and their determination to overcome them."
--Qais Akbar Omar, author of A FORT OF NINE TOWERS
"Stern immerses himself in the slums of Kabul that surround the Marefat School, one of the most successful private schools in Afghanistan, to provide a glimpse into the lives of everyday people grappling with the effects of war ... lyrical and poetic."
-- Publishers Weekly
Books By Jeffrey E. Stern
Displaying all 2 products