Jeffrey Kirby
< Back to author list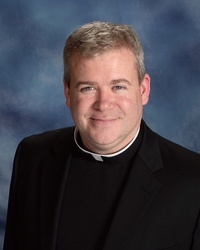 Father Jeff Kirby is the Parish Priest of Our Lady of Grace Parish in Indian Land, South Carolina (gracewepray.org). He holds a doctorate in moral theology from the Holy Cross University in Rome and a Master of Arts in Philosophy from the Franciscan University of Steubenville. Father Kirby serves as an Adjunct Professor of Theology at Belmont Abbey College and Pontifex University. He has authored several books, including "Lord, Teach Us to Pray," "Kingdom of Happiness: Living the Beatitudes in Everyday Life," "God's Search for Us," and most recently, "Be Not Troubled: A 6-Day Personal Retreat with Fr. Jean-Pierre DeCaussade."
In 2016, Father Kirby was recognized by Governor Nikki Haley and granted the Order of the Palmetto, South Carolina's highest civilian honor, for his service to local communities and young adults throughout the state.
Working with St. Benedict Press and Catholic Scripture Study International, Father Kirby was the Host of the award-winning program "Doors of Mercy" and was one of the co-instructors of the programs, "Luke: The Gospel of Mercy" and "Jesus Revealed."
Father Kirby is a weekly Senior Contributor for the news site Crux: Taking the Catholic Pulse.