Jennifer Wright Knust
< Back to author list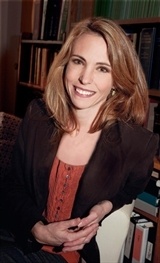 Jennifer Wright Knust is Assistant Professor of New Testament and Christian Origins at Boston University. She came to BU from the College of the Holy Cross, where she taught Religious Studies for five years. At BU, she is appointed to the faculties of the School of Theology and the College of Arts and Sciences and is affiliated with the Religion Department, Judaic Studies, and the Women's Gender and Sexuality Studies Program.
A graduate of the University of Illinois, Urbana, she earned her Master of Divinity from Union Theological Seminary (New York) and then served as an American Baptist pastor before returning to New York City to earn her Master of Philosophy and Doctorate of Religion from Columbia University. She has published widely on the New Testament, Christian history, ancient rhetoric, the transmission of the Gospels, and the interpretation of sacred texts by early Christian writers. Her recent publications include a study of sexualized name-calling among ancient writers (Abandoned to Lust: Sexual Slander and Ancient Christianity, Columbia University Press 2005), an analysis of the transmission and reception of the story of the woman taken in adultery ("Early Christian Re-Writing and the History of the Pericope Adulterae," Journal of Early Christian Studies 2006), and a forthcoming volume on sacrifice in the ancient Mediterranean world (Ancient Mediterranean Sacrifice, edited with Zsuzsanna Varhélyi, Oxford University Press). She was inspired to write her most recent book, Unprotected Texts: The Bible's Surprising Contradictions about Sex and Desire, by her mother, who taught her that the Bible should never be used as a cover for cruelty and self-righteousness.
Professor Knust has been the recipient of a number of prizes and awards, including fellowships from the Association of Theological Schools-Henry Luce III Foundation, the Radcliffe Institute for Advanced Study, the American Council of Learned Societies, the National Endowment for the Humanities and the American Association of University Women. She has also participated in a number of specialized seminars and research projects, including the Summer Program in Advanced Palaeography at the American Academy in Rome and the Summer Program in Medieval Greek at the Gennadius Library, Athens. A recipient of various teaching awards, she teaches graduate and undergraduate courses on the New Testament, early Christianity, the history of the Bible, gender theory, women and religion, the Gospels, and ancient Greek.
Ordained by the American Baptist Churches, USA, Professor Knust remains an active member of the First Baptist Church of Jamaica Plain, where she directs the children's Sunday School, and maintains close ties to her home church, the First Baptist Church of Mount Vernon, Maine. Born in California, she has lived all over the country before landing (finally) in New York, Maine, and Massachusetts.
Together with her partner Stefan Knust, she has raised two wonderful sons, Axel and Leander.
Books By Jennifer Wright Knust
Displaying all 2 products