Jerry Camery-Hoggatt
< Back to author list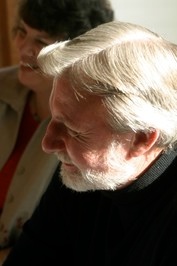 Not so long ago, there was a boy who lived with three cousins and four siblings in a three-story house. The attic was converted into a large bedroom where they slept and played and wondered about things larger than themselves. In that house the boy learned about God, about love, divorce, violence and, much later, reconciliation. There he began his quest for truth that would lead him around the world and finally to a life-altering experience at a place not so far from where he began.
So goes the story of Jerry Camery-Hoggatt, now Emeritus Professor of New Testament and Narrative Theology. Camery-Hoggatt has sterling academic credentials, but he is also a riveting storyteller, a published author of scholarly monographs, commentaries, memoirs and fiction, a performer of story concerts and a pioneering professor who teaches the gospel as odyssey rather than as outline.
Camery-Hoggatt's life is as dramatic as the stories he tells. As a boy, his childhood was overshadowed by his parents' divorce, which left the Pentecostal, church-going family with a shameful stigma. Former church friends crossed the street to avoid them. Camery-Hoggatt was so shaken by this that he began to question God's existence. He posed a theological question to his pastor one Sunday, and the pastor replied, "We're Christians. We don't ask those kinds of questions." Perplexed, Camery-Hoggatt graduated high school and left home, joining the musical group Up With People! and touring the world. Deep in his heart he was searching for answers.
One Easter Sunday he found himself in an old Russian monastery in Stamford, Conn., attending a midnight mass. There, seated among the immigrants who whispered to one another in their native tongue, Camery-Hoggatt witnessed a scene of reconciliation that stirred his soul. At that moment he decided he would ask again the question of God: "If God did not exist, then nothing mattered; if God did exist, then nothing else mattered in quite the same way."
He returned from touring and took his spiritual journey to a Christian college, where he says he was welcomed despite his spiritual doubts. Wary and questioning, he made the faith his own there, and threw himself into a lifelong study of the New Testament.
"What captured me was the discovery that these books were written by real people who had real stories to tell and were wrestling with real life issues, just like my students and the people in the churches where I grew up," he says. "It was a great relief, because it was so much messier than what I had learned in Sunday School. Growing up I'd been handed a view of the Bible that was idealized, theoretical, and abstract -- divorced from real life." Now I saw it as a real book that came out of real human experience, full of tension and turmoil, conviction and conflict, disappointment and drama. I found it immensely rich."
His journey took him to seminary and Boston University where he earned a Ph.D. in Early Christian Origins. He studied with Markan scholar Howard Clark Kee, sociologist Peter Berger, and literary theorist Amos Wilder, the older brother of playwright Thornton Wilder. Blending their perspectives, he wrote his dissertation on the use of irony as a narrative strategy in the Gospel of Mark.
Today, he prefers writing theology in story form, rather than in outline. "People respond to a story in a fundamentally different way than they respond to an outline," he says. "There are dimensions of reality that cannot be captured in an outline but can be in a story. That difference leads to an automatic disconnect between our formal education-which is outline-and the daily life of the church, which is story. An effective minister has to be bi-lingual, able to communicate in both modes."
In A Death of Splendid Daring, Dr. Camery-Hoggatt pulls it all together: A novel set in 1st Century Rome, where a Roman family gathers to discuss -- and sometimes argue about -the meaning of the Gospel of Mark.