Jesse Birkey
< Back to author list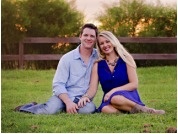 Jesse grew up in a Christian home. His father was a Mennonite Pastor and Mother a nurse. He grew up with the knowledge of God but denied the power of God to change his life. This led to a desperate search for worth, which brought hardship as he embraced the comforts of the world. He completed college at Hesston Mennonite with an associate's degree in business. At 21 Jesse had been hired as a firefighter/paramedic, married Kara and bought their first house together. A year later their son was born followed by their daughter two years after that. Jesse was 26 when the power of God's love finally broke through his hard heart. Everything in his life began to change as he pursued God with passion and zeal. God began to direct Jesse through seasons of spiritual change, bringing encouragement and correction as He sought to mature him in the things of His heart. Jesse began to recognize that God wanted to be a part of his work life and began to see miracles as he ministered the love of God in the back of his ambulance ranging from the dead raised to self hate being destroyed as the perfect love of God washed through. God began to show him that God wants to use ordinary people in extraordinary ways. It was Jesse's passion for others to know this, and the testimonies God had built in and through him, that led him to write Life Resurrected, Extraordinary Miracles through Ordinary People. Jesse's passion is to be like Jesus and continues to minister as led daily.
No results
We couldn't find a match for these filters.
Please try another choose.