Jill Marie Landis
< Back to author list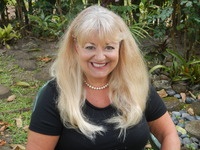 JILL MARIE LANDIS is the bestselling author of nearly thirty novels which have appeared on the NYT bestseller list, USA Today and other national bestseller lists. She has won numerous awards for her heartfelt characters and sweeping emotional historical romances that include SUMMER MOON and MAGNOLIA CREEK and the Irish Angels Series; HEART OF STONE, HEART OF LIES, and HEART OF GLASS. All of her Historical Romances are available in eBook format.
She is currently writing The Tiki Goddess Mysteries series which includes MAI TAI ONE ON, TWO TO MANGO, THREE TO GET LEI'D, TOO HOT FOUR HULA and HAWAII FIVE UH-OH! from Bell Bridge Books.
Toes in the sand and head in the clouds, she is living the dream in Hawaii with her husband, Steve. Jill Marie loves to spend hours at the beach reading or writing and she also loves dancing the hula.