Jim Reimann
< Back to author list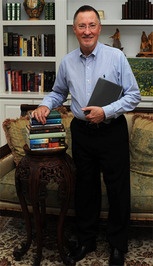 James Gilbert Reimann, 63, of Atlanta GA. He was born in Chattanooga, TN. He graduated from Georgia State University receiving a bachelor's degree in finance. He married Pamela in 1972.
He founded and owned The Christian Armory, "1988-1989 Store of the Year" by the Christian Booksellers Association, was the C.O.O. of Family Christian Stores, the editor of "My Utmost for His Highest", "Streams in the Desert", "Morning by Morning" and "Evening by Evening", and led 26 Bible-teaching tours to Israel.
He is survived by his wife, Pam Reimann. He is also survived by his children, Jeremy Reimann, Aaron Reimann and Bethany Belt, all of Atlanta GA. He is also survived by eight grandchildren, Taylor, Lillian, Morgan, Kaley, Aubrey, Sabrina, Teagan and Israel.
In lieu of flowers, the family is requesting that donations be given to the "Digging Deeper Fund" as to further the good news, which was his full purpose in life.
All are cordially invited to visit with the family Saturday afternoon from four until six o'clock and on Sunday evening from six until eight o'clock at H. M. Patterson & Son Arlington Chapel, 173 Allen Road, NE, Sandy Springs, GA 30328. Funeral services will be held Monday afternoon, the 23rd of December at one o'clock at Mount Vernon Baptist Church, 850 Mount Vernon Highway NW, Sandy Springs, GA 30327. A private interment will follow for the family.