Joe Hill
< Back to author list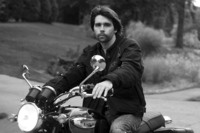 Joe Hill's debut,
Heart-Shaped Box
, won the Bram Stoker Award for Best First Novel. His second,
Horns
, was made into a film freakfest starring Daniel Radcliffe. His other novels include
NOS4A2
, and his #1 New York Times Best-Seller,
The Fireman
... which was also the winner of a 2016 Goodreads Choice Award for Best Horror Novel.
He writes short stories too. Some of them were gathered together in his prize-winning collection,
20th Century Ghosts
.
He won the Eisner Award for Best Writer for his long running comic book series,
Locke & Key
, co-created with illustrator and art wizard Gabriel Rodriguez.
He lives in New Hampshire with a corgi named McMurtry after a certain beloved writer of cowboy tales. His next book,
Strange Weather
, a collection of novellas, storms into bookstores in October of 2017.