Joe Lieberman
< Back to author list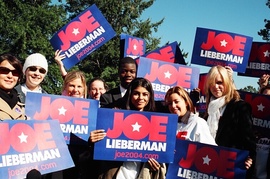 Joseph Isadore Lieberman (; born February 24, 1942) is an American politician, lobbyist, and attorney who served as a United States senator from Connecticut from 1989 to 2013. A former member of the Democratic Party, he was its nominee for Vice President of the United States in the 2000 election. During his final term in office, he was officially listed as an independent Democrat and caucused with and chaired committees for the Democratic Party. Lieberman was elected as a "Reform Democrat" in 1970 to the Connecticut Senate, where he served three terms as Majority Leader. After an unsuccessful bid for the U.S. House of Representatives in 1980, he served as state Attorney General from 1983 to 1989. He narrowly defeated Republican incumbent Lowell Weicker in 1988 to win election to the U.S. Senate and was re-elected in 1994, 2000, and 2006. He was the Democratic nominee for Vice President in the 2000 United States presidential election, running with presidential nominee and then Vice President Al Gore, and becoming the first Jewish candidate on a major American political party presidential ticket.In the 2000 presidential election, Gore and Lieberman won the popular vote by a margin of more than 500,000 votes, but lost the deciding Electoral College to the Republican George W. Bush/Dick Cheney ticket 271–266. He also unsuccessfully sought the Democratic nomination in the 2004 presidential election. During his Senate re-election bid in 2006, Lieberman lost the Democratic Party primary election, but won re-election in the general election as a third party candidate under the "Connecticut for Lieberman" party label. Never a member of that party, he remained a registered Democrat while he ran.Lieberman was officially listed in Senate records for the 110th and 111th Congresses as an Independent Democrat, and sat as part of the Senate Democratic Caucus. However, after his speech at the 2008 Republican National Convention in which he endorsed John McCain for president, he no longer attended Democratic Caucus leadership strategy meetings or policy lunches. On November 5, 2008, he met with Senate Majority Leader Harry Reid to discuss his future role with the Democratic Party. Ultimately, the Senate Democratic Caucus voted to allow him to keep the chairmanship of the Senate Committee on Homeland Security and Governmental Affairs. Subsequently, he announced that he would continue to caucus with the Democrats. Before the 2016 election, he endorsed Hillary Clinton for president and in 2020 endorsed Joe Biden for president. As senator, Lieberman introduced and championed the Don't Ask, Don't Tell Repeal Act of 2010 and legislation that led to the creation of the Department of Homeland Security. During debate on the Affordable Care Act (ACA), as the crucial 60th vote needed to pass the legislation, his opposition to the public health insurance option was critical to its removal from the resulting bill signed by President Barack Obama.
No results
We couldn't find a match for these filters.
Please try another choose.