John Archambault
< Back to author list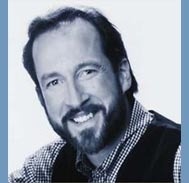 Most well known for his best-selling classic Chicka Chicka Boom Boom which he wrote and dedicated to his son, Arie Alexander Archambault, 15 years ago when he was the "new baby boom boom." By all accounts John Archambault is a modern day alchemist. In medieval days the alchemists were said to have secret knowledge enabling them to turn base metals into gold. Archambault does something no less amazing; he turn something that many children dread: learning, into a magical experience. John's work motivated kids to turn off the TV and get turned on to the magical worlds that reading can deliver. "I have a passion for bringing words to life. I stir rhythm, rhyme, and whimsy, stringing words so that a melody is created, then kids can ride along on this musical river."
John is developing a series of Big Books (shared reading) for Childcraft Education Corporation, incorporating musical CDs with read-along and sing-along styles to help early readers develop fluency and intuitive associations with print while making the experience fun, affective, and effective. Some of the titles to be published are: I Love the Mountains, Turtle Song, Grandmother's Garden, The Birth of a Whale, Freedom's Dream and several titles devoted to singable, readable Mother Goose. Archambault collaborated extensively with Bill Martin Jr. and together they created the landmark supplemental reading program, the Sounds of Language.
Archambault has become fascinated with brain research involving the power of music, most notably The Mozart Effect by Don G. Campbell. "We all know that kids love music but studies show that music may strengthen the mind, aiding learning and membory." To that end, Archambault has six music compilations on CD available through Youngheart Music performed with British recording artist and partner, David Plummer. Titles include Painting My World and Dancing on the Moon.
In addition to the CDs, Archambault has authored and co-authored over 20 books. Several have won awards including Parent's Choice, ALA Notable Children's book, Kentucky Blue Grass, and the American Library Association awards. Chicka Chicka Boom Boom (Aladdin Library, 2000) was recently chosen to be included in the 21st Century Literature Collection along with such famous titles as Curious George and Madeline. Archambault's works have appeared as featured selections on the PBS shows "Reading Rainbow" and "Storytime."
No results
We couldn't find a match for these filters.
Please try another choose.