John Vianney
< Back to author list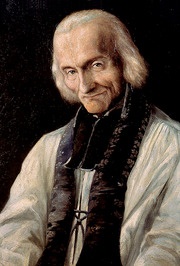 St. Jean-Marie Vianney was born in 1786 at Dardilly, France. After being drafted, leaving the army, and opening a school for village schoolchildren, he joined the minor seminary of Verrieres in 1812 and was ordained a priest three years afterward.
He is often referred to as the "Curé d'Ars". He became internationally notable for his priestly and pastoral work in his parish because of the radical spiritual transformation of the community and its surroundings due to his saintly life, mortification, his persevering ministry in the sacrament of confession, and his ardent devotion to the Blessed Virgin Mary and to Saint Philomena.
St. Vianney died at Ars-sur-Formans, France, in 1859, and was declared a saint by Pope Pius XI in 1925. His feast day is celebrated on the fourth of August.
Books By John Vianney
Displaying all 3 products