Josh Dear
< Back to author list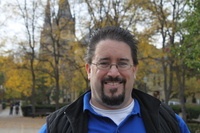 Josh Dear is a pastor, author, and editor in West Michigan. Originally from Jackson, Mississippi, he earned a B. A. in "Biblical Studies" from Belhaven College, and a Master of Divinity degree from Beeson Divinity School. Through the years, he has served as a college Bible instructor, a youth minister, an associate pastor, and the manager of a seminary bookstore.
He has also co-authored, edited, and contributed to a number of books, most notably serving as an editor for best-selling author Randy Alcorn for his book "Happiness" (Tyndale, 2015). Most recently, Josh contributed a chapter to the book "Amazing Love! How Can It Be: Studies on Hymns by Charles Wesley" (Resource Publications, 2020).
Josh is married with three children, and currently serves as the pastor of Grace Bible Church in Muskegon, Michigan.
Books By Josh Dear
Displaying all 2 products