Jude Gibbs
< Back to author list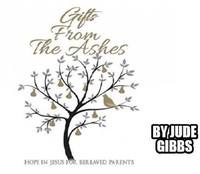 Author of 'Gifts from the Ashes' released 2/15/17….Review/Summary:
An honest and straightforward auto-biography which includes a Bereaved Mom's personal Testimony, 183 Topics, Scriptures of Comfort, and her deceased son's poems. It offers Hope and Redemption to others on this journey of Grief. It is approximately 370 pages with a beautiful design and internal layout. It can also be utilized in group discussions easily because of the manner in which the Topics are presented. The Author has been a Pastor's wife, a counselor at a treatment center in a hospital, a counselor at a private clinic, has worked numerous hotlines and at shelters for the abused, sat on the board of a major city rape crisis center for 3 yrs., had designed her own program on shame-reduction which she taught at a women's center, facilitated many groups, raised 4 natural born children along with an adopted child and a foster child, has had 4 pregnancy losses, and was barren for 7 yrs. while being told by doctors that she could not have children. It's a remarkable story of Hope & Redemption. She became an ordained minister 2/06. She currently operates an on line informative and supportive group for bereaved parents and continues to write new topics on WordPress. She is also a Contributor on 'The Mighty'. This is her 1st book. She intends to publish a 2nd in the future focused on a 24 yr. abusive marriage. I highly recommend it.
Available at:
http://www.directtextbook.com/isbn/97...
Book Review
Gifts from the Ashes: Hope in Jesus for Bereaved Parents by Jude Gibbs
In a moment of infinite sadness, one would be blessed to read Gifts from the Ashes: Hope in Jesus for Bereaved Parents by Jude Gibbs. The book is an honest and emotional sharing of one bereaved mother's testimony after the loss of her son. Among the stages of grief, she discovers gifts from God in the journey of mourning, the greatest of which is an ever-deepening faith in the healing and redemptive power of God. As the author herself states:
"We never "move on" from our (deceased) children, (but) we move forward in the things of the Lord from "Glory to Glory" … and we take them (our children) with us as we do. Eventually, we do become grateful for all the Gifts we pick up along this (bereavement) journey. No, they will never replace our child in this current world. They do, however, bring us peace and cause us to go deeper with our Lord."
Gifts from the Ashes is divided into three parts, each offering comfort and hope. The first section shares Gibbs' story—the events of her son's tragic death, her moments of uplift as she finds her gifts among the ashes, and the comfort and strength she finds in delving deeper into God's Word. The heart of the book is a series of contemplative topics in which Gibbs offers her thoughts, advice, and solace for a number of situations and emotions that bereaved parents are likely to find themselves experiencing. Lastly, a section of scripture presents the Lord's biblical truths especially relevant for grieving parents.
In reading Gifts from the Ashes, one is washed in the Grace of God along with the author's truth and love.
Xulon Press Editorial