Judith N. Shklar
< Back to author list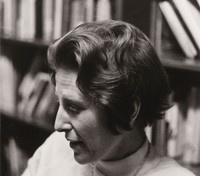 Judith Shklar was born as Judita Nisse in Riga, Latvia to Jewish parents. Because of persecution during World War II, her family fled Europe over Japan to the US and finally to Canada in 1941, when she was thirteen. She began her studies at McGill University at the age of 16, receiving bachelor of art and master of art degrees in 1949 and 1950, respectively. She later recalled that the entrance rules to McGill at the time required 750 points for Jews and 600 for everyone else. She received her PhD degree from Harvard University in 1955. Her mentor was the famous political theorist
Carl Joachim Friedrich
, who, she later recalled, only ever offered her one compliment: "Well, this isn't the usual thesis, but then I did not expect it to be." Eventually she became his successor.
Shklar joined the Harvard faculty in 1956, becoming the first woman to receive tenure in Harvard's Government Department in 1971.
During her first year in the job, the Department permitted her to stay at home with her first child while writing her first book. When it came time for her tenure decision, the Department dithered, so Shklar proposed a half-time appointment with effective tenure and the title of lecturer, partly because she had three children by then. In 1980, she was appointed to be the John Cowles Professor of Government. Her friend and colleague Stanley Hoffmann once remarked, "she was by far the biggest star of the department." Hoffmann also called her "the most devastatingly intelligent person I ever knew here."
During her career, Shklar served in various academic and professional capacities. For example, she was active in the committee that integrated the American Repertory Theater into the Harvard community.
Throughout her life, Judith Shklar was known as "Dita." She and her husband, Gerald Shklar, had three children, David, Michael, and Ruth
No results
We couldn't find a match for these filters.
Please try another choose.