Judy C. Hope
< Back to author list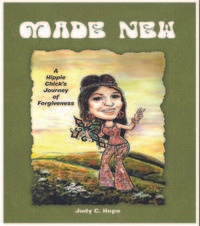 Judy C. Hope is an author, speaker, wife, and grandmother. Judy lives with her husband and spoiled little dog Andy in Woodstock, Georgia.
Judy admits that her soul's desire is to bring glory and honor to God for giving her unique life experiences with abortion and domestic violence to help women see themselves the way God sees them. If God can change Judy's life, he can, and will change yours too.
Her fun and vibrant personality actually leaves her audience wondering how a victim of incest can come out 'Made New' on the other side.
Judy speaks to Christian women's groups and serves as a client advocate with The Hope Center, a crisis pregnancy resource center located in Woodstock, GA.
Judy dedicates her people skills to help support women overcoming the devastating effects of sexual abuse, neglect, and low self-esteem, while challenging them to seek a deeper intimacy with their Creator.
No results
We couldn't find a match for these filters.
Please try another choose.