Kathleen Long Bostrom
< Back to author list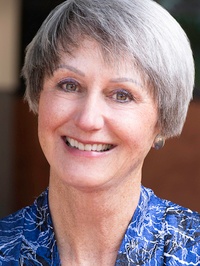 Kathleen Long Bostrom is a full-time writer who lives in Carlsbad, California, with her husband and empty-nester dog, Ellie. She served as an ordained minister in the Presbyterian Church (USA) for 30 years but now focuses on her writing. She has published over four dozen books, most of them for children. Her books are published in 20+ languages around the world, with well over one million copies sold since her first book, What is God Like?" was published in 2008.
Her book, "Who is Jesus?" was a finalist for the 2000 Gold Medallion Award, awarded to the outstanding books in Christian publishing,."What About Heaven?" was nominated for the People's Choice Award. She is included in a 2003 edition of "Something About the Author" and "Contemporary Authors," two of the premiere reference sources for information on children's authors.
Kathy is the recipient of the 2014 David Steele Distinguished Writer Award, the highest award for writing awarded by the Presbyterian Church. She was named the Distinguished Alumna of Princeton Theological Seminary in 2013, most because of her books for children. Over the years, she won awards for preaching and is often requested to speak for groups at the national level. She has published numerous articles in various journals and newspapers as well.
Kathy served on the board of the Presbyterian Writers Guild and served two terms as president. She is also a member of the Society of Children's Book Writers and Illustrators and The Authors Guild. She earned a master of arts in Christian education and a master of divinity from Princeton Theological Seminary in Princeton, New Jersey, and a doctor of ministry in preaching degree from McCormick Theological Seminary in Chicago.
Kathy and Greg have three children: Christopher, Amy, and David, all living in LA and in the film business.