Ken Abraham
< Back to author list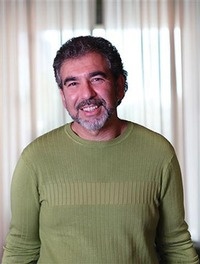 Ken Abraham is a New York Times best-selling author, known around the world for his collaborations with popular celebrities and fascinating, high-profile public figures. Ken worked with Lisa Beamer, widow of United Flight 93 hero, Todd Beamer to create the number one New York Times best-seller, LET'S ROLL! (Tyndale House Publishers, August, 2002), Lisa's story of hope in the midst of crisis.
Ken recently penned RACING TO WIN (Multnomah, 2002), with Joe Gibbs, former coach of the Washington Redskins and now owner of Joe Gibbs Racing, winner of the 2002 NASCAR Winston Cup Championship, with driver, Tony Stewart, and the 2000 Winston Cup Championship, with Joe Gibbs driver, Bobby Labonte.
In addition, Ken wrote THE RIGHT THING (Integrity Publishers, 2003), with Scott Waddle, the former Navy commander who brought his submarine up under a Japanese fishing boat on February 8, 2001, killing nine people. Commander Waddle's insistence that he is responsible and accountable for the accident, despite evidence that proves others were at fault, surprised a world that has become accustomed to leaders attempting to deflect blame away from themselves.
Ken's collaborations have been featured on ABC-TV's "20-20," NBC-TV's "Dateline," CNN's "Larry King Live," "Good Morning America" (ABC), The CBS "Morning Show," "The Today Show" (NBC), The [former] Nashville Network, and the Family Channel.
Drug-running, catastrophic death, AIDS, cancer, spousal abuse, imprisonment, and child abandonment . . . are just a few of the tough topics about which Ken Abraham has co-written books in recent years. Said one commentator, "Ken Abraham gets more heart on paper than any co-writer in America. His books offer genuine hope for people going through the darkest of circumstances."
For instance, Ken co-authored PAYNE STEWART, THE AUTHORIZED BIOGRAPHY, with Tracey Stewart. A thirteen-week New York Times bestseller, the book chronicles the life of one of the most famous professional golfers ever to grace the links. Known for his wit, charm, and sartorial splendor, including his colorful knickers and tam 'o shanter hats, Payne Stewart always left an impression. On October 25, 1999, the country watched on "live" television as Payne and five others streaked 1,400 miles across the nation in a Learjet with a dead pilot at the controls, finally crashing in a field in South Dakota. With Payne's wife, Tracey, Ken Abraham once again succeeded in telling a powerful, poignant story in a way that provides hope rather than despair.
In COMING CLEAN (WaterBrook - Doubleday- Random House), Ken's collaboration with former Medellin drug cartel leader, Jorge Valdés, provided an inside look at one of the most powerful and corrupting forces in our society-the cocaine industry and its influence on top government officials, Hollywood celebrities, as well as kids in the streets. The transformation of Jorge Valdés from the American head of the cartel to a Christian evangelist is a compelling and fascinating testimony of God's power to change anyone's life.
Ken also collaborated with professional golfer, Paul Azinger, whose rise to the top of the PGA tour, only to discover cancer in his shoulder, and his remarkable recovery and comeback are recorded in ZINGER! (Harper-Collins / Zondervan; 1995). Additionally, Ken has co-authored THE GAMER, the baseball autobiography of All-Star catcher, Gary Carter (Word Publishing).
In THE BURDEN OF A SECRET, (Random House / Ballantine, 1995), Ken collaborated with Dr. Jimmy Allen, former president of the 16-million member Southern Baptist Convention, to tell the story of Dr. Allen's family crisis as they discovered truth and mercy in the face of AIDS. The book was a finalist in the 1996 Evangelical Christian Publisher's Association's Gold Medallion Awards.
Ken co-authored the bestseller, I WAS WRONG, a book with Jim Bakker, former PTL president and televangelist, in which for the first time, the fallen preacher reveals his side o