Ko Un
< Back to author list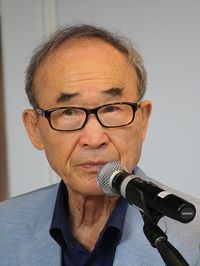 In korean: 고 은
Ko was born Ko Untae in Gunsan, North Jeolla Province in 1933. He was at Gunsan Middle School when war broke out.
The Korean War emotionally and physically traumatized Ko and caused the death of many of his relatives and friends. Ko's hearing suffered from acid that he poured into his ears during an acute crisis in this time and it was further harmed by a police beating in 1979. In 1952, before the war had ended, Ko became a Buddhist monk. After a decade of monastic life, he chose to return to the active, secular world in 1962 to become a devoted poet. From 1963 to 1966 he lived on Jejudo, where he set up a charity school, and then moved back to Seoul. His life was not calm in the outer world, and he wound up attempting suicide (a second time) in 1970.
Around the time the South Korean government attempted to curb democracy by putting forward the Yusin Constitution in late 1972, Ko became very active in the democracy movement and led efforts to improve the political situation in South Korea, while still writing prolifically and being sent to prison four times (1974, 1979, 1980 and 1989). In May 1980, during the coup d'etat led by Chun Doo-hwan, Ko was accused of treason and sentenced to 20 years' imprisonment. He was released in August 1982 as part of a general pardon.
After his release, his life became calmer; however, he startled his large following by revising many of his previously published poems. Ko married Sang-Wha Lee on May 5, 1983, and moved to Anseong, Gyeonggi-do, where he still lives. He resumed writing and began to travel, his many visits providing fabric for the tapestry of his poems. Since 2007, he is a visiting scholar in Seoul National University, and teaches poetics and literature.