Kwen D. Griffeth
< Back to author list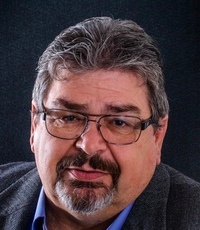 Winner of Readers' Favorite Silver Award for Historical Fiction/Western, Kwen knew he wanted to be a writer when he was fourteen years old. He felt the urge when he finished Earnest Hemingway's masterpiece For Whom The Bell Tolls. The story touched him in a way no other book ever had. It transported a kid born and raised on a farm and ranch in Idaho to the mountains of Spain. It took him back in time forty years to witness the Spanish Civil War. Kwen knew he wanted to share that wonder with other people.
John Lennon said, "Life is what happens while you make other plans." While Kwen lived a full and varied life, his dream of writing remained in the back of his mind.
Finally, in 2012, he wrote a novella named Dear Emma. He self-published through Amazon and asked people to read it. "The best way to see if I can write is to let people check it out," he said. Like it, they did. Currently, Dear Emma enjoys a 4.8 out of 5 stars rating on Amazon.
Often asked what genre he writes, Kwen replies he writes stories about people and uses the genre that best fits the story. "I think of the genre, or setting as another character that interacts to help tell the story," he says.
His most often received and constant comment is how real his characters seem. Upon the completion of his historical fiction trilogy Sam and Laura books, a reader telephoned Kwen and directed him to write more stories about the couple. When asked why the reader was so adamant about more stories, he replied he "wasn't ready to tell Sam and Laura good bye yet."
Kwen considers that comment one of his highest compliments.
Kwen's books are getting some attention from the literary community. The Law of Moses, the Silver Award winner from Readers' Favorite, and The Tenth Nail both received the Gold Award from Literary Titan Book Review. The Gold Award is given to books "found to be perfect in their delivery of original content, meticulous development of unique characters in an organic and striking setting, innovative plot that supports a fresh theme, and elegant prose that transforms words into beautifully written novels." Many of Kwen's books have received the Gold Award from Literary Titan. In addition, The Law of Moses was awarded five 5 Star Reviews from the reviewers of Readers' Favorite.
Kwen's books are available in several formats; e-Book, paperback, and audio. He invites you to check his writings out. Who knows? He might become your next favorite author.
No results
We couldn't find a match for these filters.
Please try another choose.