L. William Countryman
< Back to author list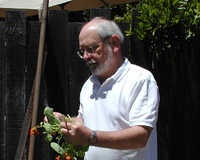 Bill Countryman is a retired seminary professor and Episcopal priest (still assisting at Good Shepherd Church in Berkeley, CA). He and his spouse, Jon Vieira, live in Oakland, CA, where he tends the garden and writes mostly poetry these days.
I'm a lover of poetry, classical music (with a particular fondness for choral and chamber music and for late-ninteenth-early-twentieth-century orchestral music. I spread my reading broadly: poetry, fiction, history, theology.
And I blog on gardening, reading the Scriptures, and whatever else interests me at
billcountryman.com
.