Larry Andrews
< Back to author list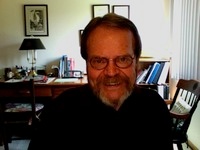 Larry K. Andrews: I am a former sportswriter, English teacher, university linguistics professor and catch-and-release angler, I like a variety of music: country, gospel, classical, the 50's, 60's, and 70's and traditional jazz. I belong to the Nebraska Cornhuskers, Missouri Tigers, and St. Louis Cardinals nations, and I enjoy dark, bold coffees and all types of ethnic foods.
I began my university career the same year I received my PhD and was tenured and promoted to full Professor in just six years.
I served in a number of administrative capacities for 10 years and eventually returned to the faculty in a convulsive fit of acute sanity. I have published numerous journal articles and four university-level textbooks. One textbook has been translated for university use in South Korea. In addition to my university faculty and administrative appointments, I have been a consultant to Imo State University, Nigeria, and a Visiting Professor at the University of London.
Songs of Sadness, Songs of Love is my first novel; The China-Africa Parallax: a Ryan and Gillian Mystery is my second.