Laura Amy Schlitz
< Back to author list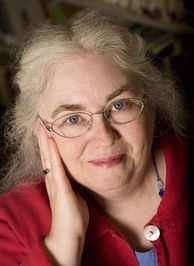 Laura Amy Schlitz is an American author of children's literature. She is a librarian and storyteller at The Park School in Brooklandville, Maryland.
She received the 2008 Newbery Medal for her children's book entitled Good Masters! Sweet Ladies! Voices from a Medieval Village,[1] and the 2013 Newbery Honor for her children's book, Splendors and Glooms.[2] She also won the 2016 Scott O'Dell Award for Historical Fiction, the 2016 National Jewish Book Award, and the Sydney Taylor Book Award for her young adult book, The Hired Girl. Her other published books are The Hero Schliemann: The Dreamer Who Dug For Troy (2006), A Drowned Maiden's Hair: A Melodrama (2006), which won a Cybils Award that year, The Bearskinner: A Tale of the Brothers Grimm (2007), The Night Fairy (2010).
Schlitz attended Goucher College in Towson, Maryland, and graduated in 1977.
Books By Laura Amy Schlitz