Lawrence Block
< Back to author list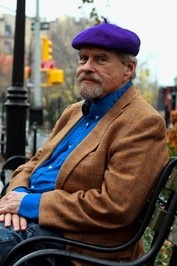 Lawrence Block has been writing crime, mystery, and suspense fiction for more than half a century. He has published in excess (oh, wretched excess!) of 100 books, and no end of short stories.
Born in Buffalo, N.Y., LB attended Antioch College, but left before completing his studies; school authorities advised him that they felt he'd be happier elsewhere, and he thought this was remarkably perceptive of them.
His earliest work, published pseudonymously in the late 1950s, was mostly in the field of midcentury erotica, an apprenticeship he shared with Donald E. Westlake and Robert Silverberg. The first time Lawrence Block's name appeared in print was when his short story "You Can't Lose" was published in the February 1958 issue of Manhunt. The first book published under his own name was Mona (1961); it was reissued several times over the years, once as Sweet Slow Death. In 2005 it became the first offering from Hard Case Crime, and bore for the first time LB's original title, Grifter's Game.
LB is best known for his series characters, including cop-turned-private investigator Matthew Scudder, gentleman burglar Bernie Rhodenbarr, globe-trotting insomniac Evan Tanner, and introspective assassin Keller.
Because one name is never enough, LB has also published under pseudonyms including Jill Emerson, John Warren Wells, Lesley Evans, and Anne Campbell Clarke.
LB's magazine appearances include American Heritage, Redbook, Playboy, Linn's Stamp News, Cosmopolitan, GQ, and The New York Times. His monthly instructional column ran in Writer's Digest for 14 years, and led to a string of books for writers, including the classics Telling Lies for Fun & Profit and The Liar's Bible. He has also written episodic television (Tilt!) and the Wong Kar-wai film, My Blueberry Nights.
Several of LB's books have been filmed. The latest, A Walk Among the Tombstones, stars Liam Neeson as Matthew Scudder and is scheduled for release in September, 2014.
LB is a Grand Master of Mystery Writers of America, and a past president of MWA and the Private Eye Writers of America. He has won the Edgar and Shamus awards four times each, and the Japanese Maltese Falcon award twice, as well as the Nero Wolfe and Philip Marlowe awards, a Lifetime Achievement Award from the Private Eye Writers of America, and the Diamond Dagger for Life Achievement from the Crime Writers Association (UK). He's also been honored with the Gumshoe Lifetime Achievement Award from Mystery Ink magazine and the Edward D. Hoch Memorial Golden Derringer for Lifetime Achievement in the short story. In France, he has been proclaimed a Grand Maitre du Roman Noir and has twice been awarded the Societe 813 trophy. He has been a guest of honor at Bouchercon and at book fairs and mystery festivals in France, Germany, Australia, Italy, New Zealand, Spain and Taiwan. As if that were not enough, he was also presented with the key to the city of Muncie, Indiana. (But as soon as he left, they changed the locks.)
LB and his wife Lynne are enthusiastic New Yorkers and relentless world travelers; the two are members of the Travelers Century Club, and have visited around 160 countries.
He is a modest and humble fellow, although you would never guess as much from this biographical note.
No results
We couldn't find a match for these filters.
Please try another choose.