Lewis V. Baldwin
< Back to author list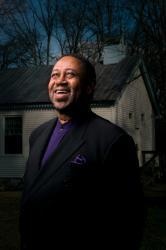 Dr. Baldwin is a native of Camden, Alabama. He received his early education in the public schools of Wilcox County, the heart of the so-called Alabama Blackbelt, where he participated in student demonstrations and other civil rights activities in the 1960s. He graduated from Camden Academy High School in 1967.
During the height of the civil rights and black power movement, Dr. Baldwin matriculated at Talladega College, Talladega, Alabama. He received a B.A. degree in History from that institution in 1971. He then studied at Colgate-Rochester Divinity School/Bexley Hall/Crozer Theological Seminaries in Rochester, New York, where he was awarded the M.A. degree in Black Church Studies in 1973 and the M.Div. degree in Theology in 1975. In 1980, he received the Ph.D. degree in American Christianity from Northwestern University, Evanston, Illinois.
An ordained Baptist minister who has preached throughout the United States, Dr. Baldwin has also established himself as a professor and scholar with a growing reputation. He has taught at Wooster College in Ohio, Colgate University in New York, Colgate-Rochester Divinity School in New York, Fisk University, and American Baptist College in Nashville, and is now a Professor in Religious Studies at Vanderbilt University in Nashville, Tennessee.