Linsey Davis
< Back to author list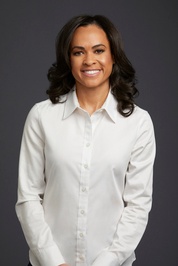 Linsey Davis is an Emmy Award winning ABC News Correspondent, filing reports for World News, Good Morning America, 20/20 and Nightline. She has covered major news stories around the globe, and is also a bestselling author of her first children's book, THE WORLD IS AWAKE. She is now excited to share her latest book, ONE BIG HEART, with the world.
ONE BIG HEART is about celebrating how we are more alike than different. We can embrace our differences and still find our common ground. God gave us all one big heart, and that's the most important part because it's where love starts.
For Davis, her son serves as her inspiration for the books she writes. "Almost daily he takes my hand and he leads me into the world around him with fresh eyes, and it serves as a subtle reminder of all the reasons to rejoice and anticipate each new day."
In addition to her role at ABC, she is a Christian, wife, mother and author. She is also a member of Alpha Kappa Alpha Sorority, Inc and the National Association of Black Journalists.
No results
We couldn't find a match for these filters.
Please try another choose.