Louis Bouyer
< Back to author list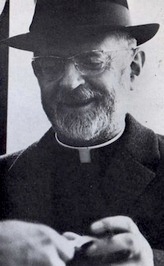 Rev. Louis Bouyer
(1913-2004) was a member of the French Oratory and one of the most respected and versatile Catholic scholars and theologians of the twentieth century.
A friend of
Hans Urs von Balthasar
,
Joseph Ratzinger
, and
J.R.R. Tolkien
, and a co-founder of the international review Communio, Bouyer was a former Lutheran minister who entered
the Catholic Church
in 1939.
He became a leading figure in the Catholic biblical and liturgical movements of the twentieth century, was an influence on
the Second Vatican Council
, and became well known for his excellent books on history of Christian spirituality. In addition to his many writings, Bouyer lectured widely across Europe and America.
Woman in the Church
(with an epilogue by Balthasar and an essay by
C.S. Lewis
), was one of the first three books published by Ignatius Press, in 1979. Other Ignatius Press books by Bouyer include
The Word Church and Sacraments in Protestantism and Catholicism
,
Women Mystics
, and the introduction to
John Henry Newman: Prayers Verses Devotions
(Bouyer wrote a biography of Newman).
He was chosen by the Pope to be part of a team to initiate the
International Theological Commission
in 1969.