Ludwig Feuerbach
< Back to author list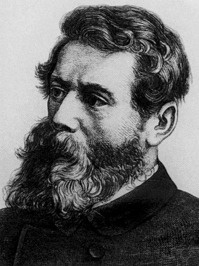 Ludwig Andreas von Feuerbach (July 28, 1804 – September 13, 1872) was a German philosopher and anthropologist best known for his book
The Essence of Christianity
, which provided a critique of Christianity which strongly influenced generations of later thinkers, including both
Karl Marx
and
Friedrich Engels
.
Feuerbach was the fourth son of the eminent jurist
Paul Johann Anselm Ritter von Feuerbach
, brother of mathematician
Karl Wilhelm Feuerbach
and uncle of painter
Anselm Feuerbach
. An associate of Left
Hegelian
circles, Feuerbach advocated liberalism, atheism and materialism. Many of his philosophical writings offered a critical analysis of religion. His thought was influential in the development of dialectical materialism, where he is often recognized as a bridge between
Hegel
and Marx.
Feuerbach is best known for his criticism of Idealism and religion, especially Christianity, written in the early forties. He believed that any progress in human culture and civilization required the repudiation of both. His later writings were concerned with developing a materialistic humanism and an ethics of human solidarity. With the recent publication of a new critical edition of his works, a new generation of scholars have argued that his mature views are philosophically interesting in their own right.
His most important work,
Das Wesen des Christentums
(1841), was translated by
George Eliot
into English as
The Essence of Christianity
.
More:
http://plato.stanford.edu/entries/lud...
http://www.marxists.org/archive/marx/...
https://www.marxists.org/reference/ar...
http://www.britannica.com/EBchecked/t...
http://people.bu.edu/wwildman/bce/feu...
http://www.nndb.com/people/964/000094...
http://www.egs.edu/library/ludwig-feu...
http://www.amazon.com/Ludwig-Feuerbac...