Lynette Chambers
< Back to author list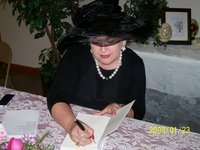 Lynette Chambers has worn many hats in her lifetime. Central among them has been the role of pastor's wife, friend, and mentor. Lynette loves speaking at women's events and retreats.
As a wife, mother and grandmother she strives to live a life that is pleasing to God.
Many of her books and stories reflect her years in pastoral ministry and her life as a child growing up in the Ozarks. Her writings will bring you closer to God in a way that you might never expect.
Lynette is an award-winning author of four published novels. She is a contributing author in the upcoming Chicken Soup for the Soul book, My Very Good, Very Bad Cat.
Lynette has also written numerous articles and short stories and has been featured on a number of radio talk shows.
Some days she is found working in her comfys, drinking endless cups of coffee as she researches ideas and details for her next novel or story.
Lynette loves sharing about her work with everyone she meets. Please feel free to view the video trailers of her first two novels.
Chasing Rainbows - A Novel
https://www.youtube.com/watch?v=v74ec...
The Emerald Rainbow - A Novel
https://www.youtube.com/watch?v=_GKsh...
Please feel free to check out her Facebook page at:
https://www.facebook.com/lynette.b.ch...
No results
We couldn't find a match for these filters.
Please try another choose.